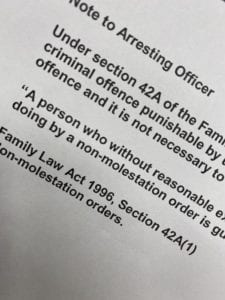 The Law Society has renewed calls for non-means tested legal aid to be made available to domestic abuse victims after government statistics revealed a record number of family court applications.
Statistics published by the Ministry of Justice show a steep increase in the number of domestic violence remedy order applications between July and September.
Family courts can grant non-molestation and occupation orders to prevent domestic violence.
Between July and September, 9,944 applications were made for a remedy order – up 26% on the same period last year and the highest quarterly number of applications since the statistical reports began.
The Law Society has made a renewed legal aid call following publication of 'deeply disturbing' statistics
Non-molestation orders accounted for 82% of applications – a 27% rise on last year. Occupation orders have risen by 22%.
The courts made 10,505 domestic violence orders between July and September, up 18% from last year.
The report says: 'The lockdown situation as a result of the covid-19 pandemic brought warnings about an increase in domestic violence, with victims having less opportunity to leave abusive partners. The recent increased trend supports this assertion. Longer term, police forces have been using a power to release alleged perpetrators without bail conditions, referred to as 'released under investigation', since 2017. This is a possible driving factor behind the rise in domestic violence remedy cases, as victims seek protective orders through the courts. The publicity regarding the Domestic Abuse Bill (draft published January 2019 and completed in the Commons stages July 2020) may have also impacted levels.'