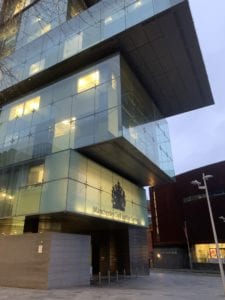 Court bosses today insisted that courts in Tier 4 areas of England will continue to open despite increased restrictions announced over the weekend.
Around 17 million people in London and across large parts of the south east were put into Tier 4 by the prime minister on Saturday after the discovery of a new variant of coronavirus.
HM Courts & Tribunals Service said today that buildings in affected areas continue to operate within Covid-secure guidelines, with no plans to change currently scheduled hearings. Under the restrictions, those involved in keeping the justice system running or fulfilling a legal obligation (including jury service) can continue to attend court and travel when required.
Justice minister Chris Philp MP tweeted over the weekend: 'Courts & Tribunals will continue to operate as they have in recent months, including in Tier 4 areas. Jury trials will continue. This is because justice is an essential service and tens of millions of £s have been spent in the last few months making courts & tribunals Covid safe.'